Education is the Tribe's highest priority. BLR supports tribal members in education and career development pursuits. In addition, the Tribe supports educational and workforce development efforts across the region.
As one example, since 2008 the Tribe has donated over $1 million to Blue Lake Unified School District and local student activities, meals programs, and other resources that maintain a strong educational system.
Scholarships
Contact the Blue Lake Rancheria Tribal Office for scholarship applications. (707) 668-5101.
The Blue Lake Rancheria (BLR) Tribe provides scholarships for education and career development activities for tribal members.
Since 2001, BLR has provided $500 scholarships to all students from Blue Lake Unified School District who have gone on to achieve their high school diploma.

This program has helped improve graduation rates and the Tribe has funded over $80,000 in scholarships to date.
Fellowships and Endowments
The Jason M. Ramos Endowment for Kinesiology Research
Internships
The Tribe supports various internships at the Rancheria.
For more information on the Tribe's education programs, scholarships, internships, please contact the Tribal Office at 707.668.5101.
Field Study
Many aspects of the BLR infrastructure are leading-edge science, technology, engineering, and math (STEM) projects. Often projects at BLR begin as student-led explorations that are studied, refined, and implemented by the Tribe. Some examples of projects that began as field study at BLR include:
Low-carbon, Community-scale Microgrid
Residential Solar Power

Partnership with GRID Alternatives
Biodiesel Manufacturing
Electric Vehicle Infrastructure
Combined Heat and Power (CHP) Projects
Biomass Research
Solar Thermal Applications
Energy Efficiency Measures
Emergency Power Designs
Solar Power Feasibility
Small Hydroelectric Power Feasibility
Wind Power Feasibility
Super-efficient Diesel Generator Upgrades
Emergency Preparedness Projects
Resource Supply Feasibility
Financial Feasibility Studies
Appropriate Technologies – Specification and Feasibility Studies
Community Water System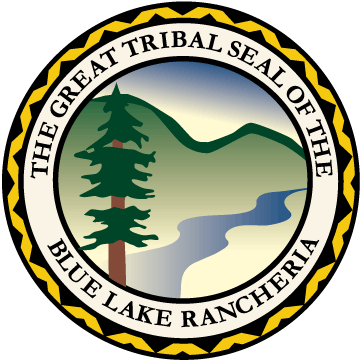 BLR Tribal
Government Office:
---
TEL:
707.668.5101
FAX:
707.668.4272
EMAIL:
info@bluelakerancheria-nsn.gov
MAILING ADDRESS
(for U.S. Postal Service):
Blue Lake Rancheria
PO BOX 428
BLUE LAKE, CA 95525
OFFICE LOCATION &
PHYSICAL ADDRESS
(for FedEx, UPS):
Blue Lake Rancheria
428 CHARTIN ROAD
BLUE LAKE, CA 95525